Bright Initiative guides Israel's next generation of data scientists
Bright Data Director of Data Products Itamar Abramovich led a data-focused workshop for students participating in the specialized information and data analysis educational track at the Ort Yad Lebowitz magnet high school in Netanya on February 3.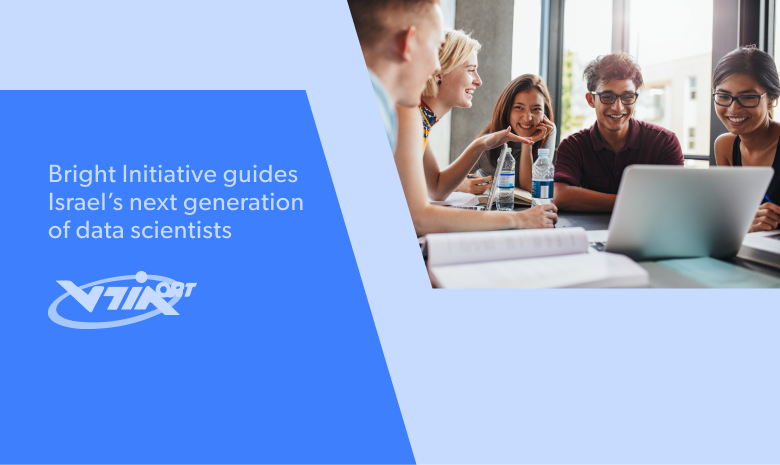 The session, organized by The Bright Initiative, a global pro-bono organization that uses public web data to drive positive change, was designed to present the Israeli students with an industry-leading view into the ways data is being utilized across a range of sectors, with the hopes of engaging these young learners to continue down the current path towards a future in data science.
This mission stems from The Bright Initiative's long-standing commitment to help bridge the data skills gaps, prevalent across all countries, economies, and sectors, by sharing its expertise and data-driven knowledge with the next generation of intellectuals and data-focused leaders.
Regarding the students of Ort Netanya, Israel – much like the rest of the world – has not been immune to the shortage of data-skilled professionals entering the workforce, despite Tel Aviv being the de facto tech capital of the world.
Throughout Israel, data-skilled professionals remain in high demand, as there are currently not enough individuals who can fill these important roles throughout the country – and not just in hi-tech, but across all sectors, as every industry has come to rely on data in some form or another.
Abramovich, who was once an Ort student himself, explained to the students that data stands at the heart of every industry.
In order to establish his point, Abramovich presented the students with the prime example of headphones sales to demonstrate how retailers change their prices in real-time in reaction to the market.
To sidebar, take a moment to imagine all that is involved in deciphering one data output, such as the purchase of a pair of Apple Airpods, by one consumer. Consider the fact that there are typically hundreds of different data outputs on a single product page that each and every one of us as a consumer cares about without even realizing it.
What prices do they receive? What advertisements are they exposed to along with their purchase? What are the shipping times? How is the consumer sentiment? What are social media influencers saying about the product? Are there any current deals available? And so on and so forth.
From there, think of millions of these purchases taking place simultaneously across the world, and then imagine eventually possessing the capability to bring it all together and decipher the trends present within the data.
This is all just for the purchase of one pair of headphones, which doesn't even scratch the surface when it comes to the amount of data being generated daily across the board.
"Last year was a huge breakthrough year for data," Abramovich explained. "In 2022, 72 zettabytes of data were generated compared to 59 zettabytes in 2020," which is roughly the amount of data able to be stored by 637.5 billion iPhone 13s (82 for each person on the planet).
For the students, understanding this is uniquely important in today's marketplace – dominated by e-commerce – where consumers looking to purchase a product typically visit multiple websites at a time to find the right product for the right price, considering today it's easier than ever for them to do so.
Retailers are no longer making decisions blindly, he told the students, they leverage a wide range of public web data points such as competitor pricing for like products, supply chain viability, reviews, and social media, among countless other outputs, in order to shift their business in the direction the data points them in.
This sparked an interest in the students who began to wonder how these teachings could be applied to home – i.e. the Israeli market – and how retailers are currently collecting public web data on Israel, both domestically and abroad.
"With smaller countries like Israel, or Belgium for that matter, data is typically collected on a country level," Abramovich explained. "However, if you are looking at the pricing of products offered by a specific local supermarket chain, these prices could differ depending on where you find yourself within those countries."
Grasping onto the idea, one of the students asked Abramovich if this can be accomplished using a VPN.
"Exactly," Abramovich adamantly said. "However, instead of a VPN, businesses use web data platforms to perform these operations on a larger scale.
"But the idea stays the same. VPNs like web data platforms allow businesses to decipher the differences in product offerings based on geo-location, giving them the ability to see the website as a real user living in that specific location would see it."
Now, although the more common applications of public web data include use cases such as price comparison, market research, product development as well as quality testing, web data has far-reaching capabilities and proves to be useful within a number of non-conventional scenarios.
Abramovich demonstrated this through the lucrative 10-year $450 million contract extension offered to Kansas City Chiefs quarterback Patrick Mahomes in July 2020, at the height of the pandemic, after he led his team to the Super Bowl the previous year.
Abramovich explained that the Chiefs analyzed Mahomes' deal using public web data and discovered that Mahomes is not only worth $450 million but that he will generate enough revenue to cover his $450 million salary much sooner than his contract expires. Within four to five years, it predicted.
"The analysis performed by the Chiefs' front office allowed them to retain the 2018 NFL MVP, while making sure it would be able to mitigate the cost of the contract by tapping into other profit centers, such as jersey sales and ticket demand," Abramovich said.
These new-world applications are the future of data science, he explained.
Public web data now has endless possibilities attached to it, from supporting academic research, to driving public policy, to climate change, to identifying obscene acts of crime such as sex trafficking and so on, as made evident by the 350+ unique cases supported by The Bright Initiative.
"As our world rapidly transforms into a real-time environment that is heavily reliant on data to power its systems, the spotlight is still shining on data and will continue to do so," Abramovich said. "Gut feelings are no longer good enough. Data is what provides certainty and it is certainly the way of the future."
This is just the start. Similar to the parallel universe theory presented by quantum mechanics, new unique data points are being constructed progressively, regularly, and simultaneously within each passing moment – data, which if used properly, could help leave the world in a better place from which we found it.
Within that, the world needs more data scientists to decipher as well as structure the teachings hidden in the data, in order to steer the next generation in a more positive direction.
Those who are able to understand the task set before them, have the ability to solve real-world problems at a high level, and incorporate decision-making processes backed by data will be the driving force behind our future.
"There are not enough data scientists available today," Abramovich said, turning to the students to deliver a parting message of inspiration. "You can be the ones to remedy this, by following your passions to become data-skilled professionals and making an impact in whatever vertical you choose to settle yourselves within.
"The future lies in data, data science, and, more importantly, you!"