Class is in session: For this lesson, we're covering web data
Students of the Amsterdam University of Applied Sciences (AUAS) received a masterclass course on how to leverage the use of public web data using Bright Data's products and platform on Wednesday.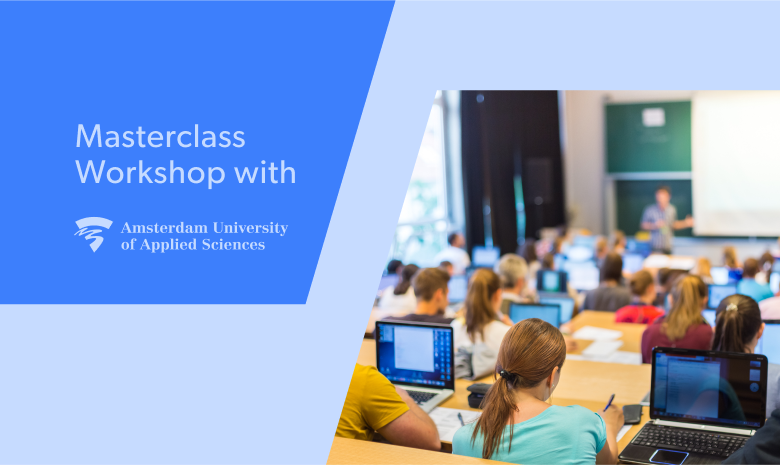 The interactive session was delivered by The Bright Initiative, which, as part of its mission to share its web data collection knowledge, best practices, and compliance-driven guidelines with the next generation of industry leaders, designs tailor-made hands-on data-focused workshops, masterclasses, programs, and seminars for partnered universities and educational institutions, providing participants with an in-depth introduction into web data collection.
AUAS, the first university to partner with The Bright Initiative, ever so often receives these practical sessions, administered by Bright Data professionals, to further equip its students with the data skills and know-how required for future career success in professions such as data, technology, business, marketing, and fintech.
The students enrolled in Assistant Professor in Data Science Rob Loke's Master Digital Driven Business class this semester were given full instruction by one of Bright Data's engineers Shay Epstein on how to use Bright Data's platform to compile large-custom data sets and unlock the potential of the most extensive public database in the history of mankind – the internet.
Students participating in the session were allotted access to Bright Data's platform as well as its products, which they will use to forward their studies throughout the AUAS master's program on the road to becoming real-world data professionals post-graduation.
The Master Digital Driven Business course offered by AUAS in the Netherlands answers the question: "How do you transform the abundance of public web data and emerging digital technologies into meaningful actions and business value?"
Throughout the one-year multidisciplinary course, the students will work towards developing a proficient understanding of data analytics and learn how to bridge the gap between raw data and business benefit in order to turn unstructured data into valuable insights.
As a final assessment, each student conducts a business research project to determine how an organization can incorporate the use of data and emerging technologies to reshape and improve its business model – preparing them with the data skills required for "effective decision-making and business-value generation" needed to take command of the ever-changing digital landscape.
General Manager of The Bright Initiative Keren Pakes opened up the session with a brief overview of The Bright Initiative.
Within her comments, Pakes broke down the mission of the pro-bono organization and the possibilities tied to making web data accessible for non-profits, NGOs, public sector bodies, and academic institutions.
"We have over 300 organizations that we are currently serving to date," Pakes said, including over 100 different leading universities across the world, such as AUAS.
"We are proud to serve all of them, and we are proud to run expert-led programs, knowledge sharing sessions, or provide our web data platform for research," she added, then turning to the students.
"Just know if there is ever something that you need to run your research and you need access, we are happy to learn more about it – we may be able to support it," she told the class participants.
"If you want access to us, please feel free to approach The Bright Initiative."
Organizations supported by The Bright Initiative are able to leverage Bright Data's leading data technology and expertise to forward anything from academic research to generating new policies, driving social responsibility initiatives, addressing environmental needs, and more, or in the case with AUAS, promoting data-driven skills to serve the ever-growing need for data professionals.
In addition to its current activities with AUAS, to name a few real-world use cases, The Bright Initiative is presently:
Supporting the UK government as it drives forward the implementation of their National Data Strategy (NDS), working with the Department for Culture Media and Sport (DCMS) and a range of other partners on projects to help realize the strategy's social and economic ambitions.
Assisting accelerators and NGOs to tackle the current climate crisis by defining data points of concern such as weather patterns or the amount of hybrid vehicles purchased in a certain company or country.
Providing support to non-profits such as Human Trafficking Initiative (HTI) Labs to identify potential human trafficking rings by offering access to its network and infrastructure to help sift through millions of public online ads, reviews and profiles to assist in stopping potential offenders.
Promoting diversity in the workforce with organizations such as Mathison, whose mission is to forward such diversity.
As well as supporting the ongoing fight on the frontlines of the coronavirus pandemic, alongside innovators and universities forwarding new technologies and social models to better combat and understand the novel disease's effects on society, among many other examples.
"We can accomplish so much with web data and those examples represent only a few of many," Pakes began.
"Imagine a world without access to public web data. That means companies would be unable to compete openly, the trajectory of innovation and progress would be restricted, and at the end of the day the consumers and the public are the ones who would be suffering," she concluded.
Like water, public information is a natural resource that belongs and should be accessible to anyone and everyone.