No WAN's Land: Helping Princeton University Map U.S. Broadband Coverage
The Bright Initiative's commitment to data-driven research has extended to providing Princeton University with technology to research the reliability of the FCC's broadband map.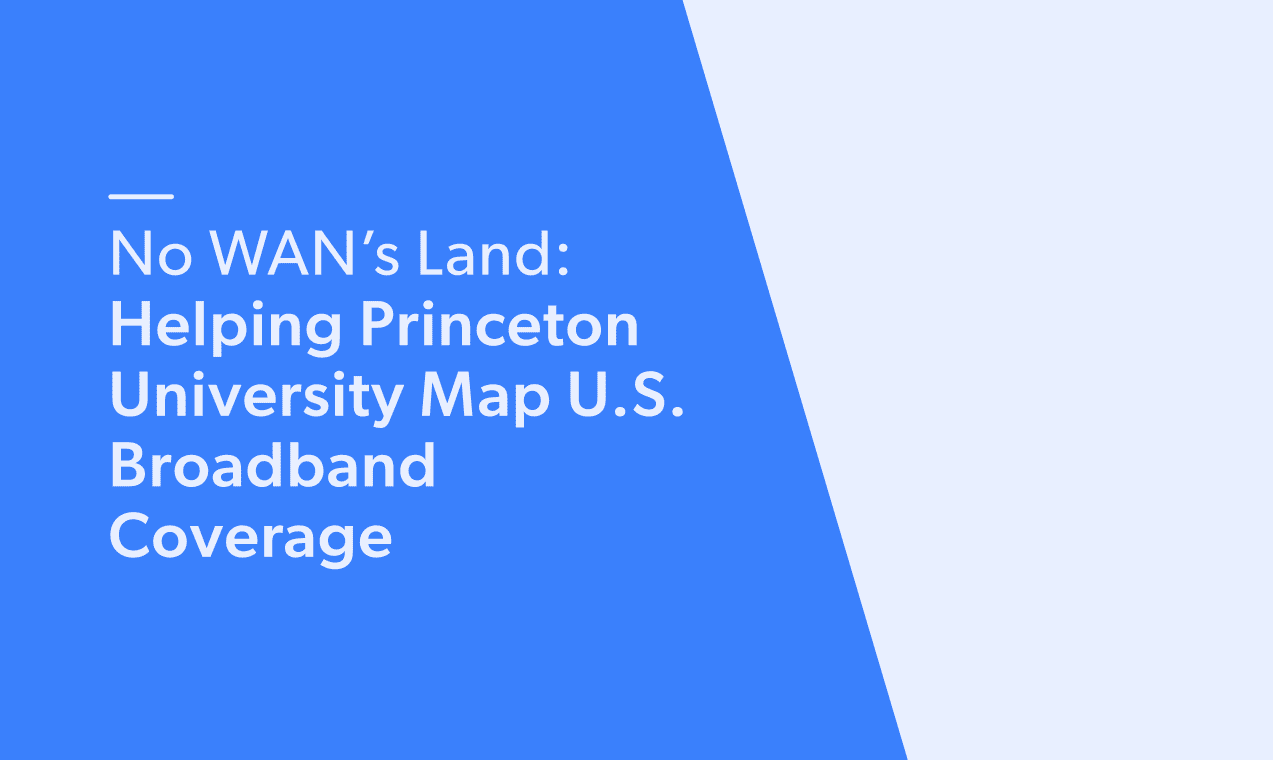 Since 2019, 90% of adults in America use the internet. According to the CIA, America has the most ISPs (Internet Service Providers) at over 7000, and with 312.32 million users it ranks as being the country with the 3rd highest number of internet users. Despite this fact, there is a great digital divide in this huge landmass, with Internet bandwidth per Internet user being one of the lowest in the western world (ranked 43).
The digital divide was first discussed in the 1990s – the conversation was originally focused on computer access but quickly turned to internet access. It was clear then, and even more so today, that while some enjoy extremely fast broadband access, others deal with slow or even no connection at all. The problem is not just limited to a country level but to the individual communities in countries that are at the supposedly at the 'forefront' of the internet.
Being shut out from the web or having limited access can have detrimental impacts on communities – from education to employment, to lack of community connection and much more.
Just 2 years before the pandemic, Microsoft estimated that in the US 162.8 million people aren't using the internet at broadband speeds, which was far higher than FCC's estimate of 25 million. Now in 2021, broadband speeds have become more essential to even more people with offices and schools closed and online video calls replacing in-person meetings and classrooms, leading to some children sitting outside McDonald's to gain access to WIFI.
Bright Data technology, provided through the Bright Initiative, has aided researchers from Princeton University to demonstrate a new approach to building more reliable and accurate broadband coverage maps and find out if the FCC is overstating the availability of broadband on their maps, and to discover where in fact the digital divide lies.
Using Bright Data's technology, the researchers were able to create a tool to submit residential address queries to each of the major ISPs broadband availability tool (BAT) to check whether an address is eligible for service and derive a dataset of U.S. fixed broadband coverage. This was used in each of the 19 million address locations across 9 states.
Access to Bright Data technology helped prove the hypothesis that the FCC's coverage data does in fact significantly overstate Broadband services and speed. The research also states that the FCC's data disproportionately overstates coverage in rural and minority communities where a digital divide is more likely to occur.
Click here to read Princeton's full research report.