Scaling Tech Expertise 'To Do Good'- and the Initiatives That do it Better
Innovation has been held as the key to solving the world's problems for a few decades now. But finding the right way to utilize both technology and expertise to tackle social issues, climate change and health problems is an on-going challenge. More and more initiatives created by some of the industry's top companies are working on finding solutions.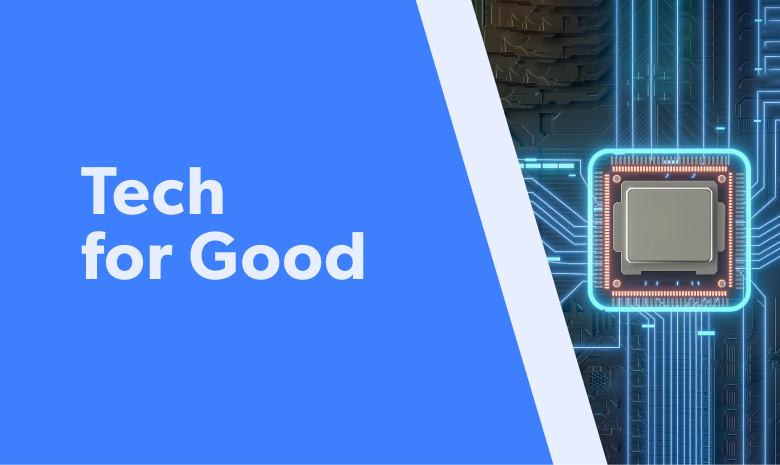 Using technology to do good is no longer a 'trend' or 'an emerging sector' within the industry. The global spotlight is intensifying on the social impact of disruptive technologies. Consumers are becoming increasingly interested in the ethical credentials of digital products and services, and millennials, innovators and investors, are increasingly driven by a desire to make a meaningful impact on society. A study by the UK growth platform Tech Nation shows that in the UK alone, 'Tech for Social Good' companies were worth $2.3 billion in 2019.
We are witnessing a time in which it is no longer just a matter of startups creating products aimed at solving world issues, but now leading tech companies are contributing their resources and expertise to worthy causes: battling climate change, reducing inequality, and improving health and living conditions. The tech sector is being redefined by these initiatives that take on the complex task of creating a better future – here are some examples:
Pioneers of 'Technology for Good'
In 2014, two Israeli innovators took it a step forward and created what is known today as the global organization, TechForGood.
TechForGood harnesses innovation, technology, and entrepreneurial spirit to address the UN's 17 Sustainable Development Goals aimed to be achieved by 2030. In other words, making tech that addresses social, economic, and environmental challenges. Today TechForGood has come a long way since its humble beginnings as an incubator for startups. It is an ecosystem with its own accelerator programs for tech startups, social mission, and funding programs for charities and social enterprises looking to use tech to achieve their aims. They lead cross-sector alliances with entrepreneurs, investors, multinational and national corporations, NGOs, and governments – to support the business opportunities in solving global challenges. Last year TechForGood joined up with Microsoft Israel to set up an accelerator, called AI for good, designed for startups working towards social causes that utilize artificial intelligence technologies.
Today, more and more companies are following in their footsteps.
Changemakers – using technology for a better tomorrow
Avanade is another company utilizing Microsoft technology for its positive impact initiative. Founded as a joint venture between Microsoft Corporation and Accenture LLP, the company assists businesses to make the transition into the digital world. As 'driving digital change' is part of their mission, Avanade believes in digital transformation as the first priority for non-profit organizations. Nonprofits and the social sector as a whole face systemic challenges in using technology. They lack scalable industry solutions and tech talent. In addition, they face accelerating financial pressure stemming from the lack of affordable technology services, cloud services in particular. Couple this with an increasing need for cybersecurity and demands of donors for more transparency, and it's easy to see that systemic change is needed. The company's solution was to create their Tech For Social Good program. It consists of repeatable solutions, including Donor Management Fundraising, Volunteer Management, Grant and Award Management, and Sourcing & Supply. The goal is to provide affordable Microsoft technology services strategy, delivery, and proper training for the non-profit market.
Data-driven positive impact
The world has pretty much switched to digital in the past few years and the COVID pandemic only accelerated the process. Today we see that most actions and transactions are data-driven. Web data platforms are providing the competitive edge along with crucial updated information to companies and organizations on all fronts, which allows them to get a wider, more accurate '˜big picture of their relative market. However, market research, competitive data, or pricing strategies are but the tip of the iceberg in the potential use of public web data. The internet is obviously the largest public database in the world – web-based data can drive critical academic research, fight social injustice, improve community well-being, and tackle critical environmental issues.
Powered by the technology of Bright Data, The Bright Initiative is a global organization offering unique data technology and solutions to public bodies, non-profit organizations, and academic institutions around the world. Access to critical publicly available web data can address the most pressing global issues of our time. Currently, The Bright Initiative has partnered with over 145 organizations and academic institutions around the world dedicated to making a difference through education, research, and data-driven projects.
The Initiative partnered with organizations such as HTI Labs and Humans Against Trafficking to fight human trafficking in the sex industry as well as the trafficking of children. One more pressing project The Initiative supported was '˜Find A Shot', which enabled Covid-19 vaccine availability at pharmacies across the U.S. And as part of their goal to establish a thriving data-driven economy, The Bright Initiative is also supporting the implementation of the UK's National Data Strategy (NDS), working with the Department for Culture Media and Sport (DCMS) and a range of other partners on projects to help realize the strategy's social and economic ambitions.
Technology for Good on the communication-tech front
Swedish communication-tech leader Ericsson, has its Technology For Good initiative based on a global partnership, scaling the company's solutions to tackle environmental and social issues. In 2015, Ericsson adopted the SDGs as the framework for measuring company impact on society. They realized that mobile broadband is a key enabler to achieve all 17 Sustainable Development Goals of the UN. The notion that communication should be available to all, is directly linked to the company's business strategy to provide ICT infrastructure, with an emphasis on mobile broadband as an enabler of internet access for all. The research team provides facts, figures, and insights on ICT's environmental impact. ICT-led education program, Ericsson's initiative for reducing inequality, enables access to digital technologies in conflict zones and promotes digital education for women and children.
---
As our world is shifting towards digital transformation at an unprecedented speed, therein lies an opportunity for tech companies to make a positive impact on society as a whole. Leading tech companies are rising to the challenge and bringing forth initiatives and partnerships using tech solutions, with the firm belief that this will be the key to building a better future.