Discussing data skills with the UK's Education Secretary
Gunja Gargeshwari, Bright Data's Chief Revenue Officer, joined UK business leaders and the country's Education Secretary, Rt. Hon. Gillian Keegan MP, to discuss how governments worldwide can leverage public web data.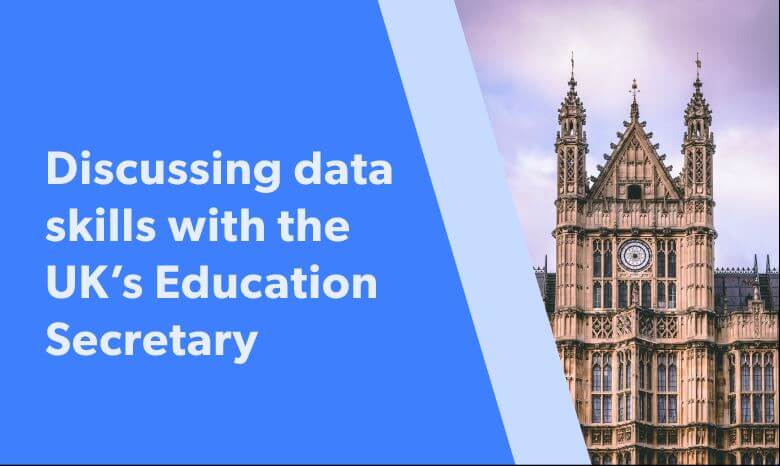 Data is arguably the most powerful resource that businesses in every industry have at their disposal, making it vital that national education systems prepare future generations to work with it. That's why the Bright Initiative by Bright Data was pleased to recently convene a meeting of UK business leaders with the country's Education Secretary, Rt. Hon. Gillian Keegan MP. Posted in partnership with the Enterprise Forum – a respected business network – the event was held at the heart of Westminster in the prestigious Broadway House building.
Gunja Gargeshwari, Bright Data's Chief Revenue Officer, joined the Minister in speaking with senior business executives from manufacturing, construction, engineering and other industries. Common to all was a need to have access to a highly skilled labour force and a reliance on data to guide growth plans.
Gunja welcomed the Minister and highlighted Bright Initiative's work in collaborating with educational institutions worldwide, granting access to public web data for research and teaching future data professionals the importance of accessing publicly available web data ethically. He emphasised just how important it is for industries to work alongside educational institutions to ensure that students benefit from cutting-edge knowledge and insight – particularly as colleges and universities are often unable to compete with the salaries tech businesses pay skilled professionals.
In her remarks, the Education Secretary welcomed Bright Data's commitment to collaborating with educational institutions and emphasised the need for others to follow suit. She highlighted measures that the Government has introduced, including T Levels and Skills Bootcamps, as ideal opportunities for businesses to support the development of cutting-edge skills for future generations.
A full discussion with the business leaders in attendance followed, addressing the range of nationwide initiatives. All agreed with Gunja's premise of the importance of collaborating with educators, and with the Secretary calling for all in attendance to leverage the government's initiatives.
The hosting of this event further demonstrated Bright Data's commitment to bringing social and economic benefits from data – and specifically public web data – to governments worldwide. We thank the Education Secretary for joining us and look forward to further working with her and her team over the coming months.