The Bright Initiative at Improvate conference in Jerusalem
Bright Data CEO Or Lenchner spoke about the real-world capabilities of the Bright Initiative, and what the organization is doing to drive forth positive global change in a panel alongside world-renowned musician and tech entrepreneur will.i.am of the Black Eyed Peas.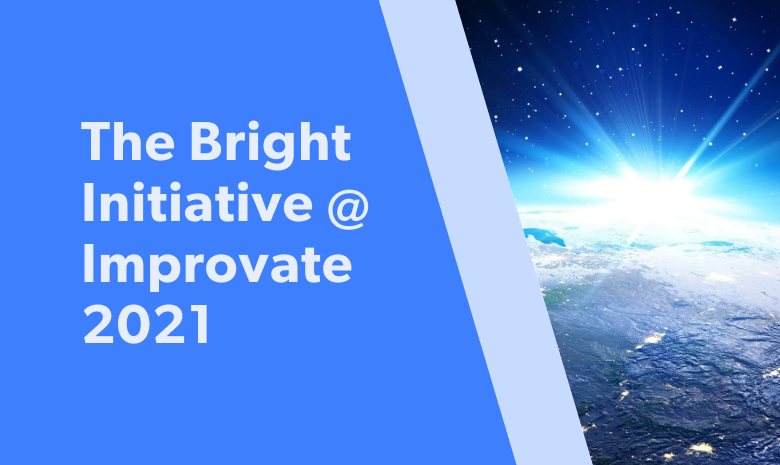 The Improvate conference invited leading figures from Israel, and across the world, to discuss furthering business collaborations within the Israeli economic sector. The panel Lenchner participated in discussed how innovation can boost economic growth, reduce social gaps, and lift countries out of poverty. .
The audience consisted of an exclusive set of business innovators, government ministers and investors actively looking to dip their toes into the Israeli hi-tech sphere – as per the mission of the event organizers, to "match Israeli innovation with top-level decision-makers in order to create future business deals that will make tomorrow's world a better place."
Within the panel, Lenchner spoke about the true undefined potential of the Bright Initiative, which empowers NGOs, non-profits, academic institutions, and public bodies with pro-bono access to Bright Data's leading data technology, support, and expertise to drive forward social worthy causes, new public policies, academic research and climate change initiatives, among many other examples.
"Once you give people access to a resource, to an asset, they can do the most incredible things," Lenchner said. "Things you couldn't even imagine."
"It's pretty similar to electricity. You can build everything," he added. "Data is, at least in my opinion, a new type of electricity."
The Bright Initiative was launched after the company realized the genuine possibilities that could be attached to lending its technology and expertise to those who have potential to create monumental change but may not have the appropriate resources to do so.
Giving a real-world example, Lenchner spoke about the case of Samson Assuta Ashdod Hospital.
In March 2020, at the onset of the coronavirus pandemic, Assuta Ashdod approached Bright Data while working around a theory – a theory which they didn't have enough time to validate within the early moments of the coronavirus outbreak.
Remember, this was a time where no one knew anything about COVID when researchers were scrambling to develop innovative medical breakthroughs and discoveries that could be used to stymie the spread of the novel coronavirus – there was literally no time to waste.
To apply its strategy, Assuta Ashdod was in need of data. Therefore, the group of researchers came to The Bright Initiative to quantify if the theory was even feasible.
Within a day The Bright Initiative came back with an answer, that their theory was feasible, and after development, Assuta Ashdod's discovery was then funneled into medical protocols.
"We are not just a commercial company, we can also use these tools to do good, and we launched the Bright Initiative in which we give our tools pro-bono to NGOs, non-profit organizations and academic institutions," said Lenchner, noting the organization is working on projects to identify discrimination in the legal system, and sex-trafficking networks, as just a few examples.
"We were very proud of that, and we proved through the access of data, you can do good," he commented.
will.i.am, genuinely revered as one of the most influential artists in the music industry, was in attendance to promote his i.am Angel Foundation, which supports in-class and after-school STEAM educational programs for disadvantaged youth grades K-12 in the Southern California area.
will.i.am, who grew up in the projects of East Los Angeles Boyle Heights, equated the pillars of the Bright Initiative with his own philanthropic endeavors as he tries to uplift the children hailing from the same stomping grounds he used to call home.
"You know how different affluent neighborhoods are from poverty-stricken neighborhoods because of literacy, and in particular tech literacy," will.iam said. "Because of that, you have data biases, these algorithmic biases. As we move forward into the future, the people who come from these communities are at the crossfires.
"When you (Lenchner) were speaking, I was just thinking about how public data could bring up these kids and inspire them so that they have context to what is going on in their communities, and can translate what is happening on a 'data-sphere' in real terms and how they are impacted by the advancement of technologies and how communities that resemble their living conditions are at risk because school districts are not bringing these kids up to speed and preparing them for this technological, algorithmic, robotic tomorrow," he said, which is what his foundation strives forward to accomplish.
"So, everything you were speaking on hit me to heart, and I really want to learn more about what you guys do and hopefully your tools could help out my kids," he added.
Lenchner responded by noting that this is the general idea behind the Bright Initiative. There are so many possibilities for the program that await in the world – many, our partners have introduced to us personally – all of which could drive forth positive change on a grand scale, each in their own way, and the Initiative is sitting on just the cusp of its potential as new use cases that could be powered by web data present themselves day-in and day-out.
"I could never even think of that use case," said Lenchner. "But that's the idea, we just need to give people access to the data. They'll do the good things with it."
Nevzlin, who was in attendance to discuss the lack of communication between the tech sector and the government, used will.i.am and Lenchner's interaction as an example, to paint the picture, of why governments should be more involved in forwarding technologies for the greater good of the countries they serve.
"Look at what is happening on stage, that is what should be happening in real life," Nevzlin said, speaking to the government ministers and representatives in the crowd.
She added that the conversation between Lenchner and will.i.am about what can be achieved by partnering the i.am Angel Foundation with the Bright Initiative is "exactly what should happen."
"They didn't know each other before. They didn't know about [each other's] projects. But that is exactly what is needed," Nevzlin said. "You need to open your ears and be ready to listen," and from there breeds collaboration.
The panel host then turned back to Lenchner to ask him about his views surrounding transparency on the internet, and how to make sure it can be made available to all. "That's our company mission… and the only way to achieve that I think is through technology," he said.
Lenchner noted the other side of the argument as well. He said that the internet is sort of a "jungle" at the moment, and while you can do great things for the betterment of mankind with access to public web data, as in the case with the Bright Initiative, it also has the potential to wreak havoc and cause a bevy of issues for those looking to use its power for good, as it is not completely regulated at the moment.
"We are actually an advocate for regulation," Lenchner said. "I think it's ok that technology will always move faster than the regulators and policymakers.
"But at least it needs to be talked about."
Public web data can lead to inspiring new partnerships, as we have learned from the 300+ organizations we have partnered with to date, each case unique in its own right.
While there is still much work to be done, to bring full transparency and compliance to the internet, the Bright Initiative continues its work supporting its partners through the access of leading web data technology and expertise on the quest for a better tomorrow – driving forth positive change worldwide.